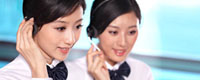 Name: Avon Lv
Tel: 86-133-0297-2494
Fax: 86-755-29490264
Mobile: 86-150-12830754
E-mail: info@szhl-tek.com
Add: ROOM402,Yucui Building,Wangcheng Road,LongHua District,Shenzhen
Skype: avonlv1987@gmail.com
MSN: avon-yafang719@hotmail.com
QQ: 2398058519
QQ: 819601690






Product name : 9V4A

Product No. : HL-SW20

Input : AC 100-240V

Output : DC 9V 4A

Power : 36W

DC Pin : 5.5*2.5mm/5.5*2.1mm/others

product name : switching power adapter 9V 4A

Model : HL-SW17

compatible for : CCTV,LED,Moul,Camera,etc.

warranty : 2years

package : brown box/customized

ac cable : AU,EU,US,UK,etc.for choice
Details:
AC Adapter For VeriFone Vx510 Vx610 Vx570 Charger Power Supply 100-240v output 9v4a


Features:
Smart device surge protection for over voltage, temperature and short circuit protection

Strong built for heavy duty and long usage performance

Convenient in use
Technical Specifications:
1 AC input voltage ……100-240VAC, Output ………9V 4A Up to 36W
2 Input frequency ………47-63Hz
3 AC inrush current(max.) …….20A/230V
5 4Line regulation (full load).......±0.5%
6 Peak- to -peak ripple …….<100MV
7 Working temperature………….0-35°C-100%,50°C-70% load
8 Setup rise hold up time………100ms,50ms,20ms-240VAC input
9 Strong made totally compatible part
10 Over voltage protection………115%-135% rated output voltage
11 Withstand voltage………I/P-O/P 3Kvac,1 minute
12 Over load protection ………115%-135%fold back current limiting, Auto-recovery
Compatible with Model Reference Chart:
Replacement AC Adapter Power Supply For VeriFone Vx510 Vx610 Vx570 Terminal
(We are Specialists in OEM AC power adapter for many devices and equipments. Welcome multi quantity quotation. We can custom-made any Voltages, Amperages and various connector power supply. Just email us:
.
for inquiry if you have any need.)
Package Includes
One Unit AC Power Adapter and One Power Cord Whole Set.
Product characteristics:
1.Power Interchangeable adapter, fixed frequency control circuit, apply to scanner, digital camera, instruments, printer, and more
2.Meet all related safety standard
3.Ultra low no-load/standby power consumption


Other features:
•Universal Input 100 to 240VAC
•Single Output to Desktop Style
•Regulated Output with Low Ripple
•Meets Safety Agency Requirements
•Complies with EMI/RFI Regulations
•Impact Resistant Polycarbonate Enclosure
•Private Label Marking Available
•Modified and Custom Designs Also Available