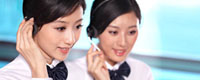 Name: Avon Lv
Tel: 86-133-0297-2494
Fax: 86-755-29490264
Mobile: 86-150-12830754
E-mail: info@szhl-tek.com
Add: ROOM402,Yucui Building,Wangcheng Road,LongHua District,Shenzhen
Skype: avonlv1987@gmail.com
MSN: avon-yafang719@hotmail.com
QQ: 2398058519
QQ: 819601690






Product name : Dual USB Car Charger

Product No. : HL-CA16

Input : DC 12 to 24V

Output : 5V 4.8A

Power : 24W

DC Pin :

product name : Dual USB Car Charger

Model : HL-35

compatible for : phone,tablet,iphone...

warranty : 13months

package : color box

ac cable :
Details:
2015 new Dual USB Car Charger with 4800ma output intelligent IC dectect
Description
Intelligent IC technology
each port intelligently identifies your device to speak its unique charging language. So plug in any brand or model and enjoy compatibility that doesn't limit your charging speed.
Powerful yet safe.
Using top-grade microchips and built-in fail-safes, we ensure you receive full power and also full safety - it'll never overpower your devices. We incorporated a unique dual-circuit protection system that prevents overvoltage, overcurrent, overheating and short circuits. CE & FCC certified, rest easy knowing your 24W of power is fully under control.

Low-profile power.
Not only is 24W Car Charger powerful, it's also among the smallest in size - beating out even most 10W / 15W options and the same size as our 18W model. Our goal was to keep it light, unobtrusive, and compact - to get the job done with minimal distraction.
Item Specification
Input DC 12V / 24V
Output 5V / 4.8A
Power 24W
Weight 49.8G