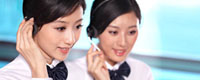 Name: Avon Lv
Tel: 86-133-0297-2494
Fax: 86-755-29490264
Mobile: 86-150-12830754
E-mail: info@szhl-tek.com
Add: ROOM402,Yucui Building,Wangcheng Road,LongHua District,Shenzhen
Skype: avonlv1987@gmail.com
MSN: avon-yafang719@hotmail.com
QQ: 2398058519
QQ: 819601690






Product name : 14V3A 6544

Product No. : HL-LA79

Input : AC 100-240V

Output : DC 14V 3A

Power : 42W

DC Pin : 6.5*4.4mm

product name : ac adapter for samsung

Model : HL-LA79

compatible for : samsung LED

warranty : 2years

package : brown box/customized

ac cable : AU,EU,US,UK,etc.for choice
Details:
shenzhen switching power supply ac adapter 14v3a for samsung 152S 152x 153S 172 lcd screen charger


Technical Specifications:
Input: 100 to 240V AC,1.0-0.6A, 50 to 60Hz (worldwide use)
Output:DC14V3A
power:42W
Outlet: 3-prong/2-prong
Connecter size:6.5*4.4MM(accept OEM other tips)



Please be sure to check that your laptop uses a 14V 3A or lower amperage AC adapter before purchasing.


Replacement Part Number: AD-4214N, GH17P, AD-4214L, BN44-00080A, SCV420108 and BN44-00058A

Compatible LCD models:

1701FP / 1702FP / 1900FP / 1500FP series and 17" / 19" LCD
for Samsung LTM1555,Samsung LTN1565 LCD 15" LCD monitors.
for Samsung LTM1555, Samsung LTN1565 15" LCD monitors.
for SyncMaster 150MP, SyncMaster 1501MP SyncMaster 152B, SyncMaster 152T, SyncMaster 570S TFT, SyncMaster 570V TFT 15" LCD monitors.
for SyncMaster 170T, SyncMaster 172B, SyncMaster 172S, SyncMaster 172T, SyncMaster 171P 17" LCD monitors.
for SyncMaster 180T 18" LCD monitors.
for SyncMaster 191T, SyncMaster 192T, 19" LCD monitors
for SyncMaster 760V TFT, SyncMaster 770 TFT, 17" LCD monitors.

Package Includes
One Unit AC Power Adapter and One Power Cord Whole Set.
Protections
1)over voltage protection: 120%min
2)over current protection: 120%min
3)over load protection hiccp mode,auto-recovery
4)Short-circuit protection: automatic recovery
5)Load regulation: ±5%
Environmental requirement
1)operating temperature: 0-40
2)storage temperature: -20-85
3)opera ting relative humidity:595%RH
4) Withstanding voltage: AC 3,000V (minimum), 5mA (maximum) ­
5)Insulation resistance: DC 500V 100MΩ (minimum)
Packing details:1 piece per plastic bag/Bubble bag+inner box+power plug (negotiate when order)
FIT FOR ANY DIGITAL PRODUCTS LIKE LCD & LED SCREEN,SCANNER,MEDICAL EQUIPMENT,PRINTER,DIGITAL FRAMES,PBX,ADSLMODEL.....